According to an article posted by the Associated Press on ESPN.com, Yankee outfielder Johnny Damon appears to be headed to the disabled list:


NEW YORK -- Johnny Damon was very careful as he got dressed to leave the ballpark Saturday, wincing from the pain in his left shoulder as he pulled a shirt over his head.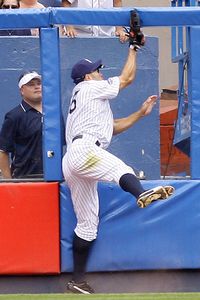 One day after the New York Yankees outfielder crashed into the left-field wall on one strange triple, Damon was still holding out hope he won't have to go on the disabled list for the first time in his 14-season major league career.
"I think we'll know more tomorrow," he said after the Yankees' 2-1 victory over the Boston Red Sox. "If I wake up and I'm feeling the same then I think they're going to DL me. But if I'm improving, [they'll] try to keep getting me ready."
Damon got treatment and did some exercises Saturday but said it could be 10 days or more before he throws again.
"Certain movements I really can't do too well," he said.
He sprained and bruised his shoulder trying to track down Kevin Youkilis' line drive in the third inning of New York's 6-4 loss to Boston on Friday.
Damon raced back, jumped and gloved the ball but lost it when he crashed into the fence. It popped out of the webbing of his glove, bounced up off the top of the wall and came to rest briefly on the fence.