As we get ready to sit down tonight to watch some of the greatest players in the world take the field in St. Louis, we at 108 Red Stitches feel that its time to sit back and reflect on those players who didn't receive top honors.

No, we're not talking about the guys who got snubbed and weren't voted or picked for the 2009 All-Star game.

We're talking about our favorite mid season award; "The False Stars".

We've compiled a list of some of the worst players in the majors, and are willing trot them out against any Triple A, softball beer league, or even Little League All Star team.

And we're willing to bet, they'll lose.

Geovany Soto, Catcher: Not are you trailing the runner up for this position (Russell Martin) by twenty three hits (Soto has 50, Russ has 73), but you just landed your sorry .230 BA ass on the disabled list and may miss about a months worth of games.

Chad Tracy, 1B: Five home runs and a paltry .222 BA gets you the starting job at first base on the 2009 False Stars. Nagging injuries haven't helped Tracy, and despite the Diamondbacks recent release of Tony Clark, Tracy is in a constant state of fear that he'll lose his job to Mark Reynolds or one of the two hot prospects the D-backs have in the farm system.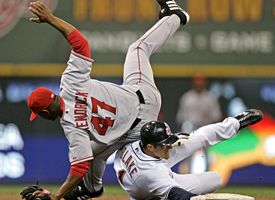 Howie Kendrick, 2B: Apparently being anointed the "second coming of Christ" at the beginning of the season doesn't translate into big league success. Before a recent rebound thanks to a demotion to Triple A, Kendrick's season was horrific. He's currently sporting a batting average of .239. Kendrick's been touted as a power hitting second basemen, but his four home runs puts him behind sluggers like Mike Fontenot, Jayson Nix, and Brendon Harris.

Yuniesky Betancourt, SS: Public spats with your manager and a .250 batting average with 2
dingers gets you traded to baseball purgatory (Kansas City). Betancourt's miserable defense and his reluctance to take a few pitches makes him the starting shortstop for the 2009 False Stars

Chris Davis, 3B: Davis is the hands down, odds on favorite to win the MVP of the 2009 False Star game. Davis is currently batting .202. Despite his 15 home runs and 33 rbis, Davis spent a chunk of time in the minors trying to correct his swing. Davis' 2009 season is a far cry from his spectacular 2008 campaign, and he is the most deserving of the False Star distinction.

Willy Tavarez, OF: After stealing 62 bases last season, you'd think he wouldn't have to fight for playing time with Chris Dickerson. But thanks to a .245 batting average (worst among leadoff hitters, or those posing as leadoff hitters) and only 17 steals, Tavarez is runner up to Davis in the 2009 False Stars MVP voting.

Rick Ankiel, OF: Maybe its time for Rick to make a position change; we heard he used to pitch. Ankiel is flashing a .071 batting average in the first half of July and he's put up some gaudy numbers throughout the 09 campaign; .215 BA, 5 home runs, 22 RBI, and one stolen base. Injuries aside, Ankiel's season is almost down the drain.

Chris Young, OF: Time to rename the Mendoza Line to the Chris Young Line. Young's posted a .198 batting average, landing him the starting right field spot on the 2009 False Stars Roster. Six home runs and 25 RBI's later, and you have to begin to wonder if the Chris Young era is coming to a close in Arizona.


Chien Ming Wang, SP: Every fifth day in New York, thousands of responsible parents are covering their children's eyes. Wang has pitched 42 innings this season, and his era is finally under 10. Heck, it took an act of God to get his era under 20. Batters are hitting .365 against him, and in the twelve games he managed to show up for work, he gave up seven home runs and has walked 19 batters. His WHIP is horrific (2.02) and he's been placed on the DL until further notice.