So here's a common situation that many fantasy players find themselves in; It's late in the draft and you've spent a lot of money and draft picks on solidifying your , lineup,have a decent bullpen going, but your rotation could use . You look at your slots and notice that you need to pick up another starter, but since its so late in the draft, almost everyone is gone.

Let's take a look at some reasonable options that should be around late in the your draft: (Players chosen are based on a 10 team league, with the top 60 players ranked by Fantasy Baseball Index removed from consideration, assuming that each team has already drafted four or five starters).


Barry Zito; Giants. Zito is listed at 61 in the rankings, and has a starting bid of $10. Our advice is to offer up to $12, to see if any other owner might bite, but don't go any higher. Sure Zito had a rough season last year (11-13, 4.53 ERA), but he's capable of bouncing back. Since Zito is most likely going to be facing other team's 1 and 2 starters, his run support (from an already listless lineup) will likely be non-exsistant. There's going to be plenty of other options out there, but if he's your number five starter, you're staff is probably in good shape to begin with.


Dontrelle Willis; Tigers. Willis is one of our sleepers in this years draft. He moves to a pitcher's park and has a lineup of devastating hitters. The Tigers could easily average 5-6 runs per game, which would win him a boat load of ballgames if he shaves a run off of last years 5.17 ERA. The Tigers have a nice bullpen that will save him 3 or 4 wins this year, but its the lineup, the ballpark, and the fact that he'll be low in the rotation that makes Willis an attractive grab.

Mark Prior; Padres. Suggested starting bid, $6. Can he stay healthy? Can he regain his old form? Our answer is a maybe. But isn't that what you're looking for in a back end starter on your fantasy team? He's going to be pitching in another pitcher heaven and facing back end of the rotation types. We'd bench him whenever he starts against Colorado, so take a gamble on Prior.

Manny Parra, Brewers. He threw a perfect game in Triple-A. The Brewers had enough confidence to start him during their playoff run. The suggested starting bid is $4. Most of the guys in your league never have heard of any other Manny than the lazy left fielder on the Red Sox. Do it. Do it. Pick up Parra. You can send us the thank you checks in the fall.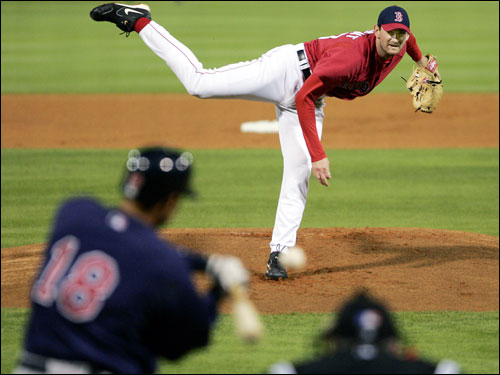 Matt Clement; Cardinals. Look at the resurrections that have occured in St. Louis. Carpenter, Suppan, Izzy, Looper, whether its post operation or a place where careers go to resurrect from the dead, there's something about Clement that says he'll follow precedence. While Clement is a fringe prospect, we're just here to remind you that stranger things have happened to pitchers wearing the Red Birds uniform.