With pitchers and catchers reporting a little less than one month from today, its time to start thinking about how this offseason's transactions will ultimately effect your fantasy baseball team.

While there are some major players still on the market (see Ramirez, Manny.) there are enough big names with contracts to warrant further inspection.



Mark Teixeira: Just because he's signed a mega-deal doesn't mean you should necessarily move him up in your draft order. Money doesn't always translate into continued success. One thing that we liked about Teixeira last season was that his numbers did not differ from his average season output.

Usually, we target a handful of ballplayers in their last year before free agency, as their stats tend to improve dramatically in their walk year. Tex's stats remained consistant with his performance over the previous two seasons (06/07/08);

HR: (33/30/33) RBI (110/105/121) BB (89/72/97)
BA (.282/.306/.308) Hits (177/151/177)

On the Field Factors:
Adding Tex to a pretty powerful Yankee lineup, you should expect to see two things happen. The
first is a dramatic increase in walks. Teixeira is an already patient hitter, so throwing him in a lineup that's known to take pitches and stresses the importance of wearing out a starting pitcher will only reinforce (and improve) Teixeira's base on balls total.

The second thing you should expect out of Tex is a combination of three things; increase in home runs, decrease in RBI's, and a major increase in runs scored. There is less pressure for Teixeira to drive in runs in his current lineup, especially if he's going to bat in front of Alex Rodriguez. A shorter porch in right field will always help a lefty power hitter and, as mentioned before, Tex's OBP (.410) will not be wasted in this powerful Yankee lineup.

Off the Field Factors:
Teixeira is leaving the West Coast, which means he'll be playing closer to his hometo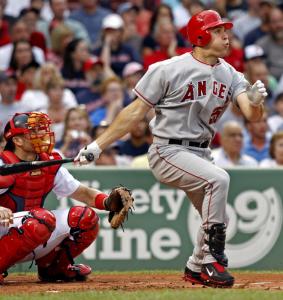 wn Severna Park, Maryland. Also, it seems that Tex's wife was happy with his choice to play for the Yankees. And most news reports practicly credit Leigh Teixeira for the deal getting done. A happy wife makes a happy hitter.

Final Thoughts:
Teixeira inevitably will go way too early in most fantasy drafts this year. We're not saying that he's a bad player, but his over exposure to the general public this offseason will bump his value and draft position in the majority of the "casual" fantasy leagues. Try not to get caught in the hype, but grab him if he falls into the third round (We're guessing that'll never happen).