Here at 108 Red Stitches, we're growing weary of the constant debate and speculation regarding which baseball team has the
best chances of winning the World Series. So we bring you part one of our two part installment of "Superbowl MLB; A Look at Which Baseball Team Could Win the Superbowl". Part I covers the American League Contenders.
For argument's sake, well use only a handful of teams to compare, one's that are normally (or would be considered) World Series Contenders. To balance out "position eligibility" catchers will equate to the team's position known as the Center and the team's front line starter will be considered the Quarterback. Every other position is fair game. Realizing that there aren't enough baseball players to fill out a football team, we'll base our studies on the theory that "Offense Wins Championships". Based on 2007 Season Rosters. Let's Begin.

New York Yankees:

Offensive line: The Yankees have one of the bigger lines in the game, consisting of lugs like Jorge Posada, Jason Giambi, Bobby Abreu, Hideki Mastui, and Roger Clemens. They're going to
need it to protect:

Quarterback: Andy Pettitte. The southpaw is more of a stationary quarterback, pocket passer. Limited arm strength due to re-occurring elbow and shoulder injuries. Not the team's best option, but their backup happens to be Mike Mussina.

RB/FB: Robinson Cano and Melky Cabrera make up this NY team's version of Thunder and Lighting. It's a very powerful backfield, one that will have to carry the team's offense because of their receiving corps.


Wide Receiver/Tight End: Jeter, Johnny Damon, and A-Rod make up a core receiving group. They've got overall average speed and decent hands. Just don't ask Damon to run a WR Option Pass route any time soon.

Defensive Highlight: Two names: Kyle Farnsworth and Shelley Duncan. They make up the scariest line backing duo in the American League. Finally, the Yanks have found a use for Farnsworth.


Boston Red Sox:

O-line: Slow, large, and lazy. Manny Ramirez, David Ortiz, Jason Varitek, Mike Lowell, and
Erik Hinkse make up one of the largest o-lines in baseball. However, they are severely un-athletic and too slow for their own good.

QB: Josh Beckett. Good fit for a QB. He's tall and strong, and throws a wicked slider, same arm motion as throwing a football. Good thing too because he'll need to his his speedy receivers because the run game:

RB/FB- Dustin Pedroia takes a large chunk of the running game. He's small and elusive, but his body can't handle a physical pounding. Boston's offensive game relies on an attack through the air.


WR/TE: Fleet footed green monsters. Jacoby Ellsbury, Coco Crisp, and Julio Lugo lead the league in speed, which translates into running rampant in most baseball team's secondaries.

Defensive Highlight: Kevin Youkillis transforms from the Greek God of Walks into the Greek God of Handing Out Mild Concussions.


Los Angeles Angels of Anahiem:
Finally, a football team returns to LA. Sort of. Not really. Well, at least LA is in the name.

O-line: Undersized, but quick, which in the MLBNFL is not such a bad thing. Most d-lines aren't exactly lining up with the likes of Warren Sapp or DeMarcus Ware. Line is comprised of Catcher Mike Nappoli, Garrett Anderson, Jeff Mathis, Casey Kotchman, and Robb Quinlan.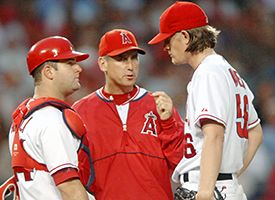 QB- Ah, finally, a quarterback controversy. Do you go with experience in John Lackey or flash and glamor, bringing in the fans with your new young gun in Jered Weaver. Sure his older brother tanked in the same position, but unlike the NFL, the little brother is better than the bigger brother in the MLBNFL (see Manning).

RB/FB: Riggie Willits and Howie Kendrick give the Halos a nice 1-2 punch. Its not the best in the league, but their offense doesn't have to rely on one aspect of the game.


WR/TE: Fast, but undersized. This seems to be the team's overriding theme. Chone Figgins leads the receiving bunch as Kendry Morales and Juan Rivera are Lackey/Weaver's 2nd and third option.

Defensive Highlight: Figgins (no surprise) is also a defensive back and special teams highlight reel. Vlad the Impaler leads an undersized defensive unit.